YouTube Plugin for MangoBlog Modified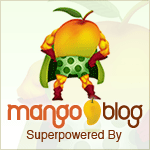 Seb Dunggan's YouTube plugin version 1.1. has served me and other MangoBlog users very well. Today, however, I had the need to update it with three modifications: 
Use YouTube's new iFrame embedd code
Add the query string "rel=0" to the url, to subpress related videos display at the end of the particular video. 
Make it work also in post excerpts and not only the full body. 
For the last modification to work, I had to put a help call out on Mangoblog Forum. Laura Arguello, creator of MangoBlog set me straight and I learned something new about the AccessObject. If you are interested, read up about it here.
Download the modified version in Zip.format for auto-install or copy/paste the url into the URL field on your plugin adming page.
Note: Should you run into an error on update, deactivate the currently installed version and try it again.
How to use YouTube Plugin for Mangoblog?
To embed a particular video into a post or page, put this string [ youtube:videoid ] including the [] in the particular spot in your post where you want the video to appear: 
To find the video id, go to the video's page on YouTube,
click on share and copy the link
The video id is what comes after the "/" 
Example: 
The id is uDD1bAZRS-M
So the shortkey for video embedding is:  [ youtube:uDD1bAZRS-M ]
Note: in order to prevent the plugin to actually try to replace every instance of mentioning the shortcut keys, I added spaces on the left and right end of the particular string. In order of it to work make sure you do not have spaces between the brackets and the string. 
Recap: How does Excerpt work?
The value in the excerpt field in the admin/edit window is used on all summary pages: Frontpage, Category Pages, Archive Pages. If you want the video appear also in the excerpt, repeat the coding also in for the excerpt field. If you leave the excerpt field empty, the full content appears in place of the excerpt.
Tweet
Got anything to say? Be the First to leave a comment!
Favorite Links

Mango Blog